Integrity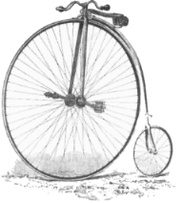 ​ Pennyfarthing Investment Management manages common stock, bond and mutual fund portfolios on a discretionary basis. The focus is on building a portfolio tailored to your goals and objectives, with ethical concerns and your best interests in mind, and returns set within the context of an appropriate level of risk.

We believe that only with the utmost integrity can we satisfy the expectations that you have for your investment manager. As your goals are satisfied, Pennyfarthing will continue to prosper.

You should expect that your investments will be handled with appropriate skill and care. After all, the quality of service that we provide is a measure of our success and the added value that we offer our clients.

Our relationship with each client is personal. Only by understanding every client´s unique situation can we promote their interests.

An investment policy statement is created from the start, and we update it as needed. It guides our investing by outlining your goals, risk tolerance and liquidity requirements.

We make certain that your account is held in safekeeping with a nationally recognized custodian and can recommend a SIPC-insured brokerage firm to you. Granting a limited power of attorney to Pennyfarthing does not make the firm the custodian of your account. Pennyfarthing is empowered only to submit trade orders and assist in requesting withdrawals made payable to you or those individuals that you authorize. Unless you specifically authorize distributions, your assets will always remain under your custodian's safekeeping.

Our firm endeavors to charge a fair rate for its services. After all, a client cannot prosper if an adviser places its own profits first and the client's interests second.

We stand squarely against self-dealing by financial advisers and have instituted controls to minimize conflicts of interest. Far too often, investment professionals´ advice is compromised by outside payments.

Pennyfarthing does not receive compensation from any outside source and receives no commissions on investment transactions.

Our concern is to protect and advance your interests.