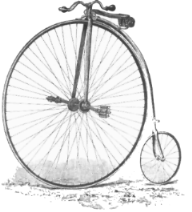 What is a penny farthing?
A penny farthing is a type of bicycle invented in the early 1870s. It was so named because its large front wheel and small rear wheel were as disproportionate in size as coins, the penny and the smaller farthing. As the successor to the velocipede, the penny farthing gained mechanical advantage by enlarging the size of the pedal-driven front wheel so that each turn would cover a greater distance.
The penny farthing was one of the world's first practical, human-powered land vehicles. It brought mobility to people who did not have access to, or the wherewithal for, a horse and carriage. Its appeal drew people outside, to mix among one another, in a way that previous forms of transportation had not.
The penny farthing recalls an earlier time, of an emphasis on quality, and so we dedicate our investment advisory services to serving the needs of our clients, and the environment and society in which we live.
What is a derailleur?​
You use a derailleur when you shift between gears on a modern bicycle. This is achieved by leading the chain from one sprocket to another. Just look where the chain wraps around the sprockets attached to your rear wheel, and there you will find the derailleur, a device that aids in the achievement of forward progress and momentum.
With
The Derailleur
, our former investment newsletter has been adapted into
our blog
and bite-sized commentary on
Twitter
.
​ History is something we continue to appreciate. We commemorate the bicycle for empowering generations of people, young and old alike, in their enjoyment of healthful exercise in the company of others and in a manner that is gentle on the environment.
---